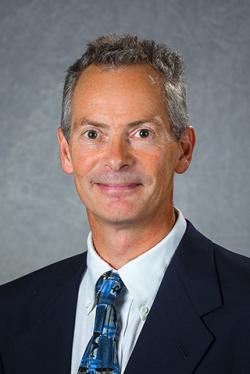 Mark Farman
(859) 323-1961
225 Plant Science Building
Lexington KY 40546-0312

Department of Plant Pathology
Professional Profile
Professor
---
Focus
Research
The Farman lab uses genomic approaches to study mechanisms of pathogenesis in the fungal phytopathogen,Magnaporthe oryzae. Areas of special interest include
Fungal genome evolution and dynamics
The roles of telomeres in pathogenic variation
Methods for high throughput fungal protein localization during host infection.
Teaching
PPA 600: Critical Methods in Plant-Microbe Interactions

PPA 500: Physiology of Plant Health and Disease (guest lecturer)

PPA 784: Special Problems in Plant Pathology
---
Additional Information
Education
Ph.D. in Molecular Biology, 1990, University of East Anglia, United Kingdom

B.S. in Biology, 1983, University of East Anglia, United Kingdom
---
Employment Highlights
Director of the University of Kentucky Advanced Genetic Technologies Center, 2012-present
Professor, University of Kentucky, 2009-present
Associate Professor, University of Kentucky, 2003-2009
Assistant Professor, University of Kentucky, 1997-2003
Postdoctoral Scholar, University of Wisconsin-Madison, 1990-1997
---
Awards, Recognition, Service
Basil O' Connor Starter Scholar, 1999
---
Recent Research Publications
(2017 to present; see Farman Lab pages for a more complete list)
2019
Wamucho A, Unrine JM, Kieran TJ, Glenn TC, Schultz CL, Farman M, Svendsen C, Spurgeon DJ, Tsyusko OV (2019) Genomic mutations are multigenerational exposure of Caenorhabditis elegans to pristine and sulfidized silver nanoparticles. Environmental Pollution 254: 113078. https://doi.org/10.1016/j.envpol.2019.113078
Rahnama M, Novikova O, Starnes J, Chen L, Zhang S, Farman M. (2019) Transposon-mediated telomere destabilization: a driver of genome evolution in the blast fungus. bioRxiv 845669; doi: https://doi.org/10.1101/845669
Peng Z, Oliveira-Garcia E, Lin G, Hu Y, Dalby M, Migeon P, Tang H, Farman M, Cook D, White FF, Valent B, Liu S (2019) Effector gene reshuffling involves dispensable mini-chromosomes in the wheat blast fungus. PLoS Genetics 15(9). e1008272. 

Yasuhara-Bell J, Pieck ML, Ruck A, Farman ML, Peterson GL, Stack JP, Valent B, Pedley KF. A Response to Gupta et al. (2019) Regarding the MoT3 Wheat Blast Diagnostic Assay. Phytopathology 109:509-511. doi: 10.1094/PHYTO-10-18-0397-LE. Epub 2019 Mar 20. PubMed PMID: 30565503.
Valent B, Farman M, Tosa Y, Begerow D, Fournier E, Gladieux P, Islam MT, Kamoun S, Kemler M, Kohn LM, Lebrun MH, Stajich JE, Talbot NJ, Terauchi R, Tharreau D, Zhang N. (2019) Pyricularia graminis-tritici is not the correct species name for the wheat blast fungus: response to Ceresini et al. (MPP 20:2). Mol Plant Pathol. 20:173-179. doi: 10.1111/mpp.12778. PubMed PMID: 30697917; PubMed Central PMCID: PMC6637902.
2018
Yasuhara-Bell J, Pedley KF, Farman M, Valent B, Stack JP. (2018) Specific Detection of the Wheat Blast Pathogen (Magnaporthe oryzae Triticum) by Loop-Mediated Isothermal Amplification. Plant Dis. 102:2550-2559. doi: 10.1094/PDIS-03-18-0512-RE. Epub 2018 Oct 15. PubMed PMID: 30320534. 
Gladieux P, Condon B, Ravel S, Soanes D, Maciel JLN, Nhani A Jr, Chen L, Terauchi R, Lebrun MH, Tharreau D, Mitchell T, Pedley KF, Valent B, Talbot NJ, Farman M, Fournier E. (2018) Gene Flow between Divergent Cereal- and Grass-Specific Lineages of the Rice Blast Fungus Magnaporthe oryzae. mBio. 9(1). doi: 10.1128/mBio.01219-17. PubMed PMID: 29487238; PubMed Central PMCID: PMC5829825.
2017
Inoue Y, Vy TTP, Yashida K, Asano H, Mitsuoka C, Asuke S, Anh VL, Cumagun CJR, Chuma I, Terauchi R, Kato K, Mitchell T, Valent B, Farman M, Tosa Y. (2017) Evolution of the wheat blast fungus through functional losses in a host specificity determinant, Science 357:80-83.
Jang C; Wang R; Wells J; Leon F; Farman M; Hammond J; Goodin M (accepted for publication) Genome sequence variation in the constricta strain dramatically alters the protein interaction and localization map of Potato Yellow Dwarf virus. J. Gen. Virol.
Elshahawi SI, Cao H, Shaaban KA, Ponomareva LV, Subramanian T, Farman ML, Spielmann HP, Phillips GN Jr, Thorson JS, Singh S. (2017) Structure and specificity of a permissive bacterial C-prenyltransferase. Nature Chem. Biol. oi: 10.1038/nchembio.2285.
Buiate E, Xavier X, Moore N, Farman M, Schardl, C, Vaillancourt L. (2017) A comparative genomic analysis of putative pathogenicity genes in the host-specific sibling species Colletotrichum graminicola and Colletotrichum sublineola. BMC Genomics 18: 67.
Farman M, Peterson G, Chen L, Valent B, Bachi P, Murdock L, Hershman D, Pedley K, Fernandes M, Bavaresco J. (2017) The Lolium pathotype of Magnaporthe oryzae recovered from a single blasted wheat plant in the United States. Plant Dis. http://dx.doi.org/10.1094/PDIS-05-16-0700-RE
Pieck M, Farman M, Peterson G, Stack J, Valent B, Pedley K. (2017) Genomics-based marker discovery and diagnostic assay development for wheat blast. Plant Dis. 101: 103-109.