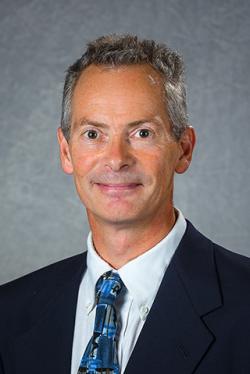 Mark Farman
(859) 323-1961
225 Plant Science Building
Lexington KY 40546-0312

Department of Plant Pathology
Professional Profile
Professor
---
Focus
Research
The Farman lab uses genomic approaches to study mechanisms of pathogenesis in the fungal phytopathogen,Magnaporthe oryzae. Areas of special interest include
Fungal genome evolution and dynamics
The roles of telomeres in pathogenic variation
Methods for high throughput fungal protein localization during host infection.
Teaching
PPA 600: Critical Methods in Plant-Microbe Interactions

PPA 500: Physiology of Plant Health and Disease (guest lecturer)

PPA 784: Special Problems in Plant Pathology
---
Additional Information
Education
Ph.D. in Molecular Biology, 1990, University of East Anglia, United Kingdom

B.S. in Biology, 1983, University of East Anglia, United Kingdom
---
Employment Highlights
Director of the University of Kentucky Advanced Genetic Technologies Center, 2012-present
Professor, University of Kentucky, 2009-present
Associate Professor, University of Kentucky, 2003-2009
Assistant Professor, University of Kentucky, 1997-2003
Postdoctoral Scholar, University of Wisconsin-Madison, 1990-1997
---
Awards, Recognition, Service
Basil O' Connor Starter Scholar, 1999
---
Recent Research Publications
2016 to present (see Farman Lab pages for a more complete list)
Inoue Y, Vy TTP, Yashida K, Asano H, Mitsuoka C, Asuke S, Anh VL, Cumagun CJR, Chuma I, Terauchi R, Kato K, Mitchell T, Valent B, Farman M, Tosa Y. (2017) Evolution of the wheat blast fungus through functional losses in a host specificity determinant, Science 357:80-83.
Jang C; Wang R; Wells J; Leon F; Farman M; Hammond J; Goodin M (accepted for publication) Genome sequence variation in the constricta strain dramatically alters the protein interaction and localization map of Potato Yellow Dwarf virus. J. Gen. Virol.
Elshahawi SI, Cao H, Shaaban KA, Ponomareva LV, Subramanian T, Farman ML, Spielmann HP, Phillips GN Jr, Thorson JS, Singh S. (2017) Structure and specificity of a permissive bacterial C-prenyltransferase. Nature Chem. Biol. oi: 10.1038/nchembio.2285.
Buiate E, Xavier X, Moore N, Farman M, Schardl, C, Vaillancourt L. (2017) A comparative genomic analysis of putative pathogenicity genes in the host-specific sibling species Colletotrichum graminicola

 and 

Colletotrichum sublineola. 

BMC Genomics 18: 67.

Farman M, Peterson G, Chen L, Valent B, Bachi P, Murdock L, Hershman D, Pedley K, Fernandes M, Bavaresco J. (2017) The Lolium pathotype of Magnaporthe oryzae

 recovered from a single blasted wheat plant in the United States. Plant Dis. 

http://dx.doi.org/10.1094/PDIS-05-16-0700-RE
Pieck M, Farman M, Peterson G, Stack J, Valent B, Pedley K. (2017) Genomics-based marker discovery and diagnostic assay development for wheat blast. Plant Dis. 101: 103-109.
Florea S, Phillips T D, Panaccione D G, Farman M L, Schardl C L. (2016) Chromosome-end knockoff strategy to reshape alkaloid profiles of a fungal endophyte. G3 6:2601-2610.
Okagaki L, Nunes C, Sailsbery J, Clay B, Brown D, John T, Oh Y, Young N, Fitzgerald M, Haas B, Zeng Q, Young S, Adiconis X, Fan L, Levin J, Mitchell T, Okubara P, Farman M, Kohn L, Birren B, Ma L-J, Dean R (2015) Genome sequences of three phytopathogenic species of the Magnaporthaceae family of fungi. G3 5:2539-2545.
Minton R L, Martinez Cruz M A, Farman M, Perez K E (2016) Two complete mitochondrial genomes from Praticolella mexicana 

Perez, 2011 (

Polygyridae

) and gene order evolution in 

Helicoidea

 (Mollusca, Gastropoda). ZooKeys 626: 137-154

Malaker P, Barma N, Tewari T, Collis W, Duveiller E, Singh P, Joshi A, Singh R, Braun H-J, Peterson G, Pedley K, Farman M, Valent B (2016) First report of wheat blast caused by Magnaporthe oryzae

 pathotype Triticum in Bangladesh. Plant Dis. 100: 2330.