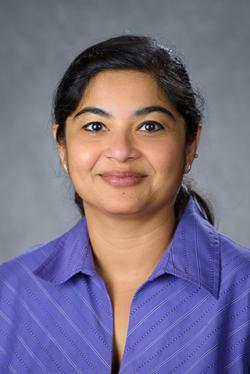 Aardra Kachroo
(859) 323-1961
215 Plant Science Building
Lexington KY 40546-0312

Department of Plant Pathology
Professional Profile
Professor
---
Focus
Research
Plants exhibit incredible adaptability to their external environment via an intricate cohort of signaling mechanisms that simultaneously regulate growth and disease physiology. The long-term goals of my program are to understand these intricate signaling mechanisms. For this, we primarily use Arabidopsis and soybean as our experimental systems to study local and systemic defense responses against viral, bacterial, and fungal pathogens. On-going projects are focused on: 
Understanding the movement of chemical signals that regulate plant systemic immunity
Understanding how glycerolipid metabolism interfaces with defense signaling
Identifying and characterizing plant targets of microbial effectors
Understanding the overlap in responses induced by pathogenic versus beneficial microorganisms
Teaching
PPA 500: Physiology of Plant Health & Disease
PPA 785: Special Problems in Plant Pathology
PPA 395: Independent Study in Plant Pathology
BIO 199: Research Experience for STEMCats
---
Additional Information
Education
Ph.D. in Microbiology, 1999, Maharaja Sayajirao University of Baroda, India & The Salk Institute of Biological Studies, California

M.S. in Biotechnology, 1993, Maharaja Sayajirao University of Baroda, India

B.S. in Microbiology, 1991, Ramnarian Ruia College, Mumbai, India
---
Employment Highlights
Associate Professor, University of Kentucky, 2012-present
Assistant Professor, University of Kentucky, 2006-2012
Ag Research Specialist, University of Kentucky, 2003-2006
Postdoctoral Scholar, Cornell University, 2000-2002  
---
Awards, Recognition, Service
Annual lab research-based workshops at the Youth Science Summit, Lexington KY
Annual lab research-based workshops at the Girl Scouts GEMS program
Annual research presentations to Kentucky corn and soybean growers
ASPB Young Women Investigator Travel Award, 2007
Rockefeller Foundation graduate fellowship, 1994-1996  
---
Professional Affiliations
American Society of Plant Biology
American Phytopathological Society
International Society of Molecular Plant-Microbe Interactions
American Soybean Association  
---
Recent Research Publications
(2014 to present; see A. Kachroo Lab pages for a more complete list)
2016
Shine MB, Yang JW, El-Habbak M, Nagyabhyru P, Fu DQ, Navarre D, Ghabrial S, Kachroo P, Kachroo A (2016) Cooperative functioning between phenylalanine ammonia lyase and isochorishmate synthase activities contributes to salicylic acid biosynthesis in soybean. New Phytologist 212:627-636
Lim GH, Kachroo A, Kachroo P. (2016) Role of plasmodesmata and plasmodesmata localizing proteins in systemic immunity. Plant Signaling & Behaviour 11:e1219829
Luan H, Shine MB, Cui X, Chen X, Ma N, Kachroo P, Zhi H, Kachroo A. (2016) The potyviral P3 protein targets eEF1A to promote the unfolded protein response and viral pathogenesis. Plant Physiology 172:221-234
Lim GH, Shine MB, de Lorenzo L, Yu K, Cui W, Navarre D, Hunt AG, Lee J-Y, Kachroo A, Kachroo P. (2016) Plasmodesmata localizing proteins regulate transport and signaling during systemic immunity. Cell Host & Microbe 19:541-549
2015
2014
 Wang JL, Shine MB, Gao QM, Navarre D, Jiang W, Liu CY, Chen QS, Hu GH, Kachroo A (2014) Enhanced Disease Susceptibility1 mediates pathogen resistance and virulence function of a bacterial effector in soybean. Plant Physiology 165: 1269-1284. doi 10.1104/pp.114.242495
Gao QM, Yu KS, Xia Y, Shine MB, Wang CX, Navarre D, Kachroo A, Kachroo P (2014) Mono- and digalactosyldiacylglycerol lipids function nonredundantly to regulate systemic acquired resistance in plants. Cell Reports 9: 1681-1691. doi 10.1016/j.celrep.2014.10.069
2013
Hou J, Ghabrial S, Kachroo A, Agudelo P (2013) Functional analysis of a glutathione S-transferase from reniform nematode on soybean. Journal of Nematology 45: 294-295.